Ossining Patrol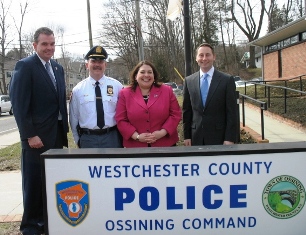 Patrol services in the Town of Ossining are provided from the Westchester County Police Ossining Command at 507 North State Road.
Residents in the Town of Ossining who need to contact the county police in a non-emergency should call 914-864-7700.
In an emergency, dial 911.
The county police began patrolling the community on Jan. 1, 2011, under a contract for police services with the Town of Ossining. Under the contract, the county police provide uniformed Patrol officers, a detective and a School Resource Officer who is assigned to the Anne M. Dorner Middle School.
Communications and supervision are provided from county police headquarters at 1 Saw Mill River Parkway in Hawthorne.

Patrol Services Division (PSD) officers in the Town of Ossining have gained the confidence of town residents by effectively addressing community concerns. PSD officers work along with town officials and citizens in a cooperative effort to develop solutions to community problems.