The Marine Unit offers the following tips to help ensure a safe and pleasant boating season on the Hudson River and Long Island Sound.
Before heading out on the water:
Take a boating safety course. Boater inexperience is responsible for a large number of accidents and emergencies on the water each summer. By taking a safety course, you will ensure that you are familiar with navigation laws and boating etiquette and will learn what to do in the event of a mechanical failure, accident or other emergency.
Make sure the boat you are using is safe. The Westchester County Police Marine Unit and the U.S. Coast Guard Auxiliary offer free vessel inspections to help boat owners meet this goal.
Be sure the boat has the legally required safety equipment aboard. The required items include: Personal Flotation Devices (one for every person on board), throw rings, visual and audible distress devices, fire extinguishers, an anchor and navigation and anchor lights. Though not legally required, a marine radio and/or a cellular telephone are recommended – it's the easiest way to call for help in an emergency on the water.
Have a float plan and leave it with someone on shore. Be sure that the plan indicates what time you will be leaving, where you will be going and what time you estimate you will return.
Check local weather forecasts for marine-related information prior to your departure.
Once on the water:
Children under the age of 12 must wear a Personal Flotation Device (PFD) when aboard a boat of less than 65 feet in length or aboard a Personal Watercraft in New York State.
A PFD must be available for every person on board (including in kayaks, canoes and rowboats) and is recommended to be worn on the water by persons of every age. It is estimated that 70 per cent of all boating-related deaths could be prevented if PFD's were more fully utilized.
Never operate a vessel while under the influence of drugs or alcohol. Boating While Intoxicated is a crime in New York and the county police Marine Unit has a zero-tolerance policy for BWI.
In New York, any pleasure vessel, whether propelled in whole or part by mechanical means, must be registered with the Department of Motor Vehicles. The operator of the vessel, whether the owner or not, is required to be in possession of the original registration when the vessel is in operation.
The Marine Unit provides police coverage and services along the Westchester County side of the Hudson River. The unit conducts police operations on the river in conjunction with other state and local police and fire agencies.
The unit is dedicated to maintaining a visible law enforcement presence as part of its effort to enhance boater safety, security for fireworks displays and safe community celebrations along the shoreline.
The Marine Unit conducts rescues of boaters or swimmers in distress and removes dangerous boaters or vessels from the water.
The unit conducts counter-terrorism patrols around critical infrastructure including the Tappan Zee Bridge, sewage treatment plants and the Indian Point nuclear power facility.
The Marine Unit's primary vessels are a 36-foot SAFEBOAT and 31-foot SAFEBOAT. A 27-foot Boston Whaler rounds out the fleet. In addition to basic rescue, first aid and safety equipment, the vessels are outfitted with:
Infra-red night vision
A side scanner
An underwater remote-operated vehicle
Radiation detection equipment
De-watering pumps
An automated external defibrillator.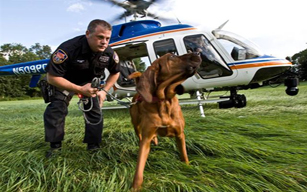 The Department of Public Safety has multiple teams comprised of a police officer/handler and a specially trained canine.
The teams provide the department with the ability to detect virtually all types of explosives; detect a wide range of narcotics and track crime suspects or lost people.
Each team is trained for a single, law enforcement purpose, for example, explosives, narcotics or arson detection, or tracking.
The unit also has one of the nation's first electronic detection canines, trained to sniff out hidden or discarded electronic devices such as cell phones, thumb drives and SD cards that may contain evidence critical to a criminal investigation.
The Hostage Negotiation Team (HNT) consists of police officers trained by the Federal Bureau of Investigation and a police psychologist serving as a mental health consultant in negotiation techniques. HNT intervenes in crisis situations to minimize the potential for loss of life by attempting to resolve incidents using negotiation skills. 
Generally, the HNT is deployed wherever there may be an armed, barricaded subject within the county's jurisdiction. The HNT has been called upon by other law enforcement agencies requiring this specialized service too. 
The HNT utilizes a nationally recognized, team-concept technique that assigns specific interconnected support tasks throughout the negotiation process. Moreover, the HNT conducts joint training exercises with the FBI and is often deployed together with our Special Response Team in the execution of high-risk search warrants or arrests where a hostage or armed barricade situation may evolve.
The Counter Sniper and Marksman Team (CST) consists of marksmen and observers, whose primary function is to augment the Special Response Team.
The CST provides:
Real time intelligence in critical situations through observation using specialized optical devices
Cover and operational support to SRT officers and other special response personnel as they mobilize during a deployment
Westchester County Government | 148 Martine Avenue | White Plains, New York 10601 | (914) 995-2000
Copyright 2019 Westchester County. All Rights Reserved. Disclaimer/Privacy Policy